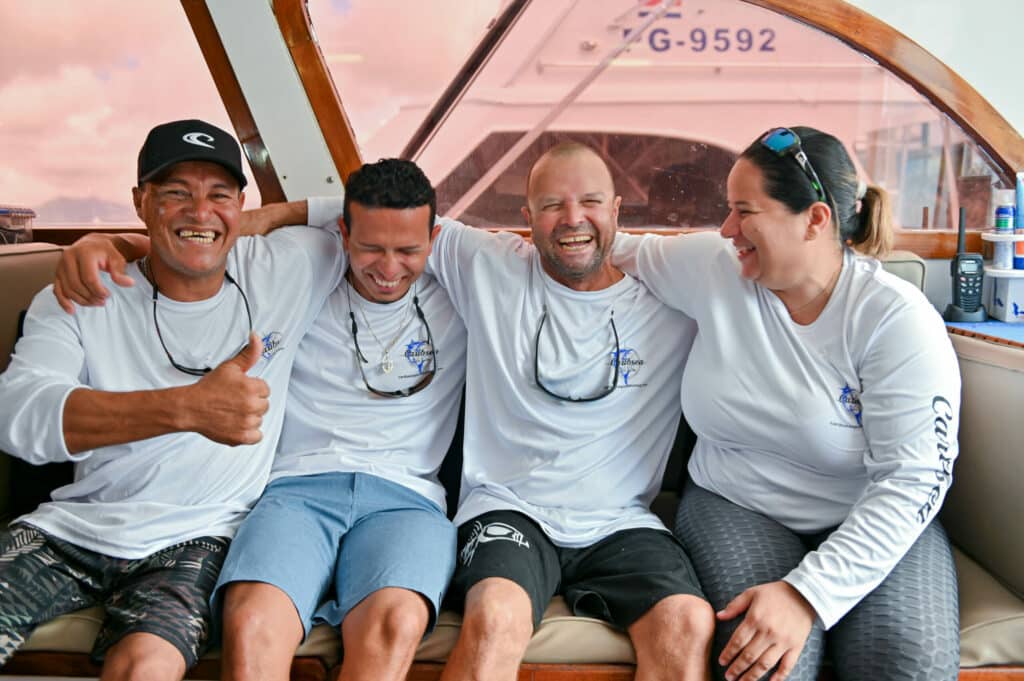 Offshore Fishing Costa Rica
Offshore fishing is (arguably) what Costa Rica is most famous for! With the fertile currents of the Pacific Ocean passing right along the coast of Costa Rica, we have what many would say is the best offshore fishing grounds anywhere in the world. Depending on the areas you are fishing from, average run times to the offshore fishing grounds is between 45 minutes and 1.5 hours. Sometimes less and sometimes more.
Where is the best place to go offshore fishing in Costa Rica?
Since these FADS are set on the offshore seamounts, the best location for FADs fishing Costa Rica is between Golfito and Jaco. At this time, all the FADs are located in the central pacific region of Costa Rica. The marinas in Golfito, Quepos and Los Suenos are your best options. If you look at the picture below, you will see a screen shot of the Sea Floor in this area: (Picture coming soon)
When is the offshore fishing season in Costa Rica?
The truth be told, offshore fishing Costa Rica is great year-round. However, some areas have proved to be better during certain times of the year for different species. As with most fishing seasons, these are not scientific or exact, but they do provide a good base to work with, so your expectations on what can be caught are set correct.

The most famous fishing season for Costa Rica is when our large schools of Pacific sailfish show up in the central pacific areas between Drake Bay and Los Suenos. With Quepos being right in the heart of it all. These schools typically arrive in Costa Rica around December and remain here until April. December to April in the central pacific area, is considered the absolute best months for sail fishing in Costa Rica. But, don't let that fool you as we have sailfish in Costa Rica year-round.

May – August and November, are know as 'transitional months', when all offshore species can be caught on an offshore fishing trip.

Even though December through April, might get the most attention and buzz, the fishing during the off sailfish season is still exceptional. On any given day during the 'off season', you will likely catch marlin, sailfish, tuna and dorado (mahi mahi). This is the time of year as well when we see more marlin around as they coincide with the yellow fin tuna runs we get during the summer months.
In September and October, the offshore fishing is still great, but the weather can be a bit wet compared to other months. This does not affect the fishing, but if you are traveling with family and want to enjoy the other activities Costa Rica is famous for, you might get more rain you would like while onshore. However, if you want to catch fish and don't mind the possibility of rain in the afternoons, these months are great for meat fish and billfish. There is not much pressure on the fish and because many boats do maintenance and it is just not a peak travel time in general. If your goal is filling the coolers with fresh tuna or dorado, there is the best time to come.

The other benefit of fishing during or off season is pricing. As this is a tourist off season, there is great savings to be had with lodging due to seasonal rate changes.
What will I catch on a offshore fishing Costa Rica trip?
For offshore fishing, there are 4 key species you will target on any given day and then a few bonus species that can show their face at any time.

The primary target species for offshore fishing in Costa Rica is the Pacific sailfish. This species is found in the central pacific year-round, with the biggest concentration during the months of December – April.

The second species that is commonly found on the offshore trip is blue marlin. Costa Ric is quickly becoming one of the most talked about destinations in the world for incredible blue marlin fishing.

The offshore FADS/Seamounts are gaining the most buzz, but the traditional day charter is also seeing great results because of this incredible fishery attracting more marlin closer in then ever before.

The third species that you can catch on your offshore day is dorado or mahi mahi. This feisty pelagics, which make great table fair as well. These fish can be caught any time of year in Costa Rica and seen more often during the off season months as the currents carry a lot of trash and debris, which provides the perfect hunting grounds for the mahi mahi.

The fourth most common species here is yellow fin tuna. For the longest time, this species has not been easy to target in Costa Rica, but due to some new regulations on the purse sein boats (Tuna Boats), the populations have exploded and yellow fin tuna has become a species we can target pretty much year round.

For the bonus species, you can also get a shot at Striped Marlin, Black Marlin and the occasional Wahoo.
Our boat "Caribsea" is a 46' Guthrie, built in Ocracoke Island, North Carolina. For anyone that knows the history of Carolina boats, knows these boats were built as battle wagons designed to take the brutal sea conditions that the Carolina coast line is notorious for.
Fully Equipped for a Multi-day Deep Sea Fishing Adventure
Our boat is equipped with all the latest electronics and fishing equipment. We also have tuna tubes, live wells, and a lure list that would take days to describe, so we can offer whatever the fish are feeding on. We have a full Garmin Navigation Suite and Furuno 25kw bird finder radar. In addition, we are equipped with AIS, for safety on the overnight trips, life raft, satellite phone (Call home and give live reports) and coast guard approved.
For sleeping arrangements, we have one full size v-birth, two bunk beds, cabin couch and additional full size bed in the salon. We can take 4 anglers comfortably along with the crew. Full AC cabin, hot meals and plenty of space to rekindle the day's events after your fishing days at the FADS.
We provide everything you need to fish! Bait, ice, tackle, fishing equipment, food–a hot meal, and drinks. You will buy fishing licence on the dock, right before you board.