Seamount fishing vs Offshore Day trips
So, you're looking into coming to Costa Rica for some sportfishing.
Great!
You picked the right place. (Both this blog and Costa Rica as a fishing destination.)
And then the obvious question comes to mind—what kind of trip should you book?
Seamount fishing vs offshore day trip?
And… What exactly is the difference?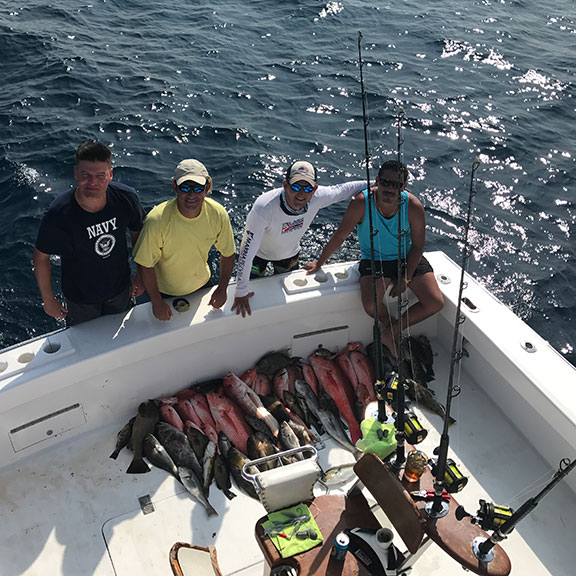 Why Seamount fishing and not an offshore day trip?
The traditional fishing experience in Costa Rica revolves around the day charters. These charters leave the marinas around 7am, fish all day and return around 4:30pm. Offshore fishing trip like this is a great option for families and anglers looking to experience the near shore waters of Costa Rica.
Then what does a Seamount fishing trip offer that you can't get with day trip? Well, if you book a Seamount fishing trip you will always have priority of getting a larger and faster boat. And not only that. You'll also be able to cover more fishing grounds because of Seamount (Fish Aggregating Device). Or, how about 1/3 more of fishing time out of your day, as you're already on the prefect fishing spot as the dawn starts to break?
On your typical day charter from any of Costa Rica popular coast fishing towns (Golfito, Quepos, Los Suenos, Tamarindo and Papagayo), you can expect to catch a wide range of species throughout the year. A primary day trip species for offshore revolve around Pacific sailfish, mahi mahi (dorado), yellow fin tuna, blue marlin and black marlin.
However, for the angler that is looking to target blue marlin in one of the best fisheries in the world, the overnight Seamount trips are the way to go.
A typical Seamount fishing trip requires one to four nights aboard the fishing boat, and offers 35% more fishing time and access to the best blue marlin fishing grounds anywhere in the world.
These Seamount are located between 63 miles and 145 miles off the Central Pacific Coast of Costa Rica. If you want to have a successful fishing trip, you need to spend a few nights at sea in order to dial in the best Seamount that is holding the most fish. If you are looking for the closest thing to a guaranteed blue marlin catch, this is the best opportunity anywhere in the world.
Seamount fishing in Costa Rica does come with a price tag. Are you physically and physiologically fit to endure an overnight (or multiple night) fishing trip?
Who is a Seamount fishing trip really for?
Technically, anyone can do this type of fishing if they desire. Seamount fishing vs offshore, there is no difference in fishing itself. However, I would recommend only experienced anglers or boaters to go on Seamounts trips, as sea conditions can change at any time. The main factor is comfort and the ability to handle what the seas through at them. You are a long ways from land, so if the weather goes south or the seas get rough, you pretty much have to tough it out until things pass. Safety is always first priority and all the boats offering Seamount fishing trips in Costa Rica are equipped to handle whatever the ocean throws at them. But, the angler needs to be mentally prepared as well.
Seamount fishing trips are also very exhausting since your fishing days are long (5am – 6:30pm), and the opportunity to fight multiple marlin in a single day will tire out the best of anglers. Make no mistake, your sleeping arrangements are going to be very comfortable. But, for anyone that has slept on a boat, you know the noises you hear at night along with the constant movement can add to that tiredness.
If all this didn't trow you off, get all the nitty-gritty details on how a typical Seamounts fishing Costa Rica trip looks like. Or check out your offshore and inshore day charter options…
We provide everything you need to fish! Bait, ice, tackle, fishing equipment, food–a hot meal, and drinks. You will buy fishing licence on the dock, right before you board.