What kind of FADs fishing does Costa Rica offer?
There are many different types of FADS in the world, but the ones used in Costa Rica are subsurface FADS. We have found over the years that the placement of the FADs in the water column will have a direct impact on the species it holds. Place it to close to the surface and you get tons of mahi mahi and wahoo. Place it too deep and attract fish, but makes it hard to fish them.
A FAD (aka seamount) is actually anything that attracts fish. Most of you have likely already seen something that is considered a FAD also know as a seamount. Whether it is a tree floating or a plastic bucket, it would be considered a FAD. However, man-made FADs are more predictable. They are either stationary or floating with a satellite beacon so they can be found easily. Costa Rica FADs are stationary and subsurface, so not easily spotted with the naked eye.
Where is the best place to go FADs fishing Costa Rica?
Since these FADS are set on the offshore seamounts, the best location for FADs fishing Costa Rica is between Golfito and Jaco. At this time, all the FADs are located in the central pacific region of Costa Rica. The marinas in Golfito, Quepos and Los Suenos are your best options. If you look at the picture below, you will see a screen shot of the Sea Floor in this area: (Picture coming soon)
When is the FADs season in Costa Rica?
The truth be told, there is no season for this type of trip. Since these FADs hold bait year-round, we have found that you can have a great FADs fishing Costa Rica trip any time of the year. With that said, more fish are caught and reported during the months of April – November.
However, a primary reason why this is, revolves around our tournament season and the peak sail fish season during December – March. Basically, since the sailfish bite is on so strong during those months, most of the captain and charters are fishing day trips and tournaments this time of year.
What will I catch on the FADs fishing trip in Costa Rica?
Like all fishing, there are never any guarantees in the world of sport fishing. However, if you put in the time and energy as well as plan in advance—so you can book the best captains, you are going to have a productive trip. The target species for the FADs fishing Costa Rica is blue marlin. There is a lot of bi-catch there as well like sailfish, mahi mahi, tons of small tuna and the occasional black or stripe marlin. See our recent FADs/seamounts fishing trips caught on video:
What is a FADs fishing trip like?
So the way the FAD fishing trips work is based on how many days the client wants to fish. Fortunately, Caribsea is equipped to stay as many nights as most anglers would want to spend on the water, but there are some logistics to think about.
Your typical FAD trip requires a departure from the marina late afternoon between 3pm – 6pm. This makes it nice for anglers looking to arrive in Costa Rica and head direct to the boat to start fishing.
Once aboard the boat, you will start your journey chugging to the FAD/Seamounts
This trip will take between 7 hours and 12 hours depending on the FAD your crew decides to head to first. During this travel time, you get to enjoy the company of your crew, a great dinner and some shut eye (That is if you can control the excitement and actually get any sleep).
Around 4:30am, you will be woke up by the smell of fresh coffee and the crews feet hustling around on the deck. Once the light is bright enough that you can see the fishing spread, you start fishing. Typically this is around 5-5:30am. From there, you will have breakfast, lunch and fish until dark and then have dinner.
If you booked the two night one day fishing trip, you will start your trip chugging back to the marina with an arrival the next morning around 5:00am – 8:00am.
Multi-day Deep Sea Seamount Fishing Trips, Get the Best Bang for Your Buck
However, for those who book a multi-day trip, upon nightfall, you will deploy a sea anchor and call the open ocean home for the night. Then, start the fishing all over again the next morning. As of now, we offer 2 night – 1 day trips all the way to 4 nights – 3 day trips.
In addition, if you want to really maximize your fishing time and take advantage of the boat while you have it, we can add on a full day of fishing to your last day as well for a fee. The way this works is upon your ride back to the marina, you will fish that entire next day instead of returning to the marina in the morning.
Interested in booking a FADs fishing trip?
What kind of boat do you use for FADs fishing Costa Rica trip?
Our boat "Caribsea" is a 46' Guthrie, built in Ocracoke Island, North Carolina. For anyone that knows the history of Carolina boats, knows these boats were built as battle wagons designed to take the brutal sea conditions that the Carolina coast line is notorious for.
Fully Equipped for a Multi-day Deep Sea Fishing Adventure
Our boat is equipped with all the latest electronics and fishing equipment. We also have tuna tubes, live wells, and a lure list that would take days to describe, so we can offer whatever the fish are feeding on. We have a full Garmin Navigation Suite and Furuno 25kw bird finder radar. In addition, we are equipped with AIS, for safety on the overnight trips, life raft, satellite phone (Call home and give live reports) and coast guard approved.
For sleeping arrangements, we have one full size v-birth, two bunk beds, cabin couch and additional full size bed in the salon. We can take 4 anglers comfortably along with the crew. Full AC cabin, hot meals and plenty of space to rekindle the day's events after your fishing days at the FADS.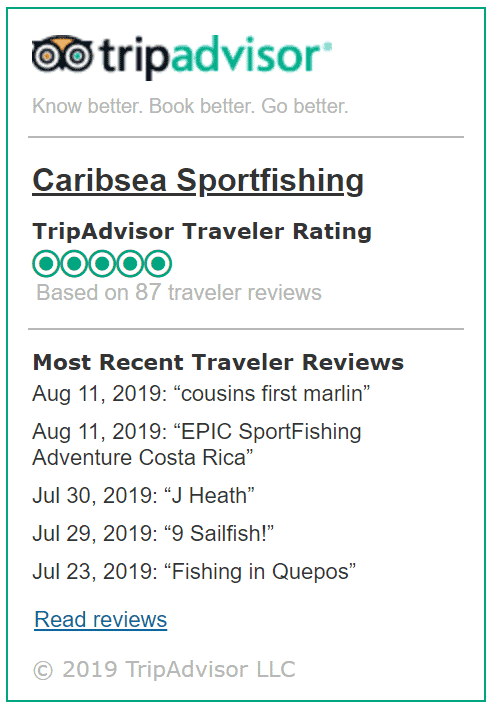 FADs Trivia
What is exactly is a FAD?

A FAD (Fish Aggregating Device) is a man made device/object that strategically located in the ocean to attract fish, both predatory and bait. The FADs in Costa Rica are anchored on top, or off to the side of our offshore sea mounts. These seamounts come up from the seafloor (6k-8k feet deep) to ranges between 1500 – 300 feet from the sea surface.
The natural change in the sea floor is an instinctive place for fish to concentrate due to the changes in currents. The placement of these FADs gives the bait fish a place to find refuge and attract the larger species.